Blog
Street XO London
I felt like I was on a disco night out last week at Street XO London. Madrid-Born Chef David Muñoz's place in Mayfair is not a discreet and quiet establishment – it makes a statement from the word go. It's big. It's bold. It's dark with red accents, glowing neon, a disco-like atmosphere with loud music surrounding the room but, they serve fantastic food and exceptional drinks. Chef Muñoz is a three Michelin star Spanish chef with a couple of restaurants in Madrid; the upmarket Diver XO and the more accessible Street XO Madrid.
Chef David created a special 3-course menu combining Spanish and Asian flavours paired with Sherry at the bar for the Street XO in London celebrating Feria de Jerez. This menu will run from 3rd-17th May 2018 to honour Spain's world-famous Feria de Jerez, a week-long local event comparable to Easter in the municipality of Jerez de la Frontera in May. The small plates are paired with sherry from the Gonzalez Byass, one of Spain's most well-known Sherry bodegas. Delectable morsels expertly matched the sherries see below.
Liquid Cuisine Signature Cocktails de Feria at Street XO
Tokyo-Jerez cocktail with Palo Cortado Sherry
The Tokyo-Jerez comes with a prawn head to suck on before sipping with the rich and crisp Palo Cortado sherry – It was delicious.
'El Quillo' de Manhattan
'El Quillo' de Manhattan – a take on the Manhattan using dark and nutty Oloroso sherry
Exclusive bites and Sherry flight with Gonzalez Byass at Street XO
Exclusive bites and Sherry flight with Gonzalez Byass at Street XO  the parings were perfect!
Amontillado Viña AB (a version of Fino) and Hamachi Usuzukuri-carpaccio "fish and chips' with Ají Amarillo and Yuzu.
Hamachi Usuzukuri-carpaccio
Fino En Rama (special limited bottling of Tio Pepe Fino) Tio Pepe Sherry and Irish Oysters on Holiday to Acapulco!
Robata-chargrilled Oysters, Gazpacho of Jalapeño & tomatillo Verde, chlorophyll olive oil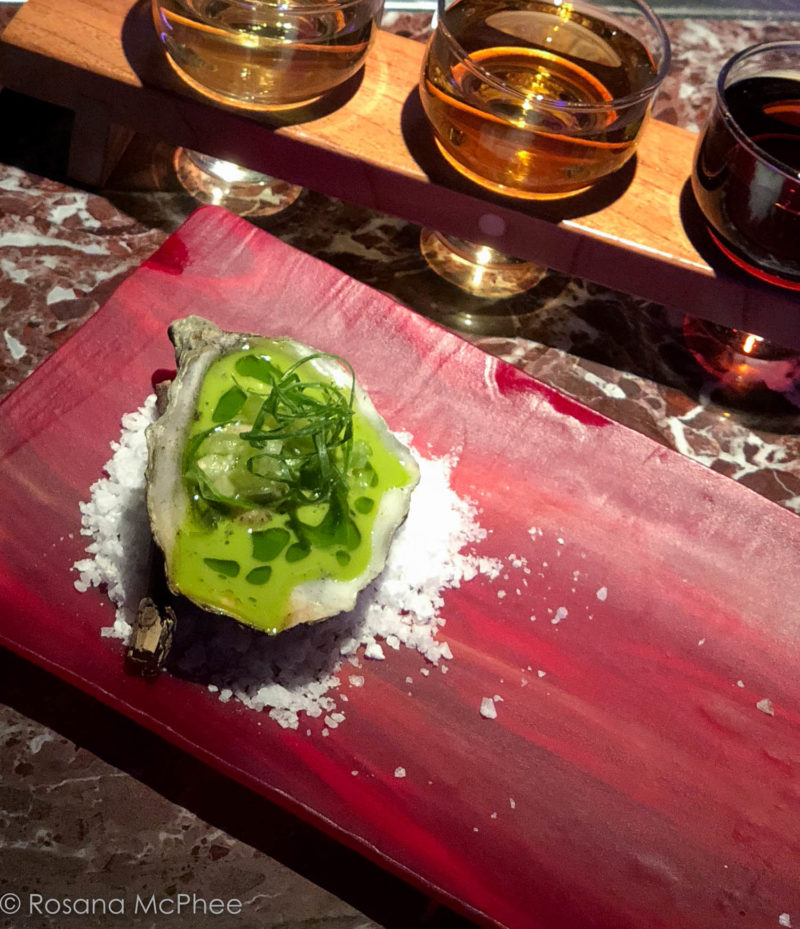 Irish Oysters on Holiday to Acapulco!
Cream Sherry (semi-sweet) Solera 1847, a blend of Palomino and Pedro Ximénez grapes paired with "Le Pedroche" croquettes which are filled with sheep's milk and topped with thin slices of fatty cured tuna belly and kimchi – great umami flavours.
"Le Pedroche" croquettes at Street XO
Street XO London
After sampling the cocktails and the tapas plates with sherry, it was time to taste some dishes in the restaurant. I have to confess that the food was so good that more food was ordered during the evening. Before setting foot at Street XO, my expectations were very low, and I was pleasantly surprised by this experience.
The service was friendly, knowledgeable and cordial. In the restaurant area, the open kitchen takes the centre stage populated with lots of busy young Spanish speaking chefs in action – pure theatre! Some of the dishes of the evening:
Street XO
Street XO
A Scottish Cow visits Bangkok Street XO London
A Scottish Cow visits Bangkok – Braised beef cheeks in a green curry of jalapeños & kaffir lime, grilled avocado and peas. It was so tasty!
Ramen of Foie Gras & BBQ Guinea Fowl, with black trompette mushrooms and Singapore Brioche XO –  the brioche was so good! I want to have some to take away.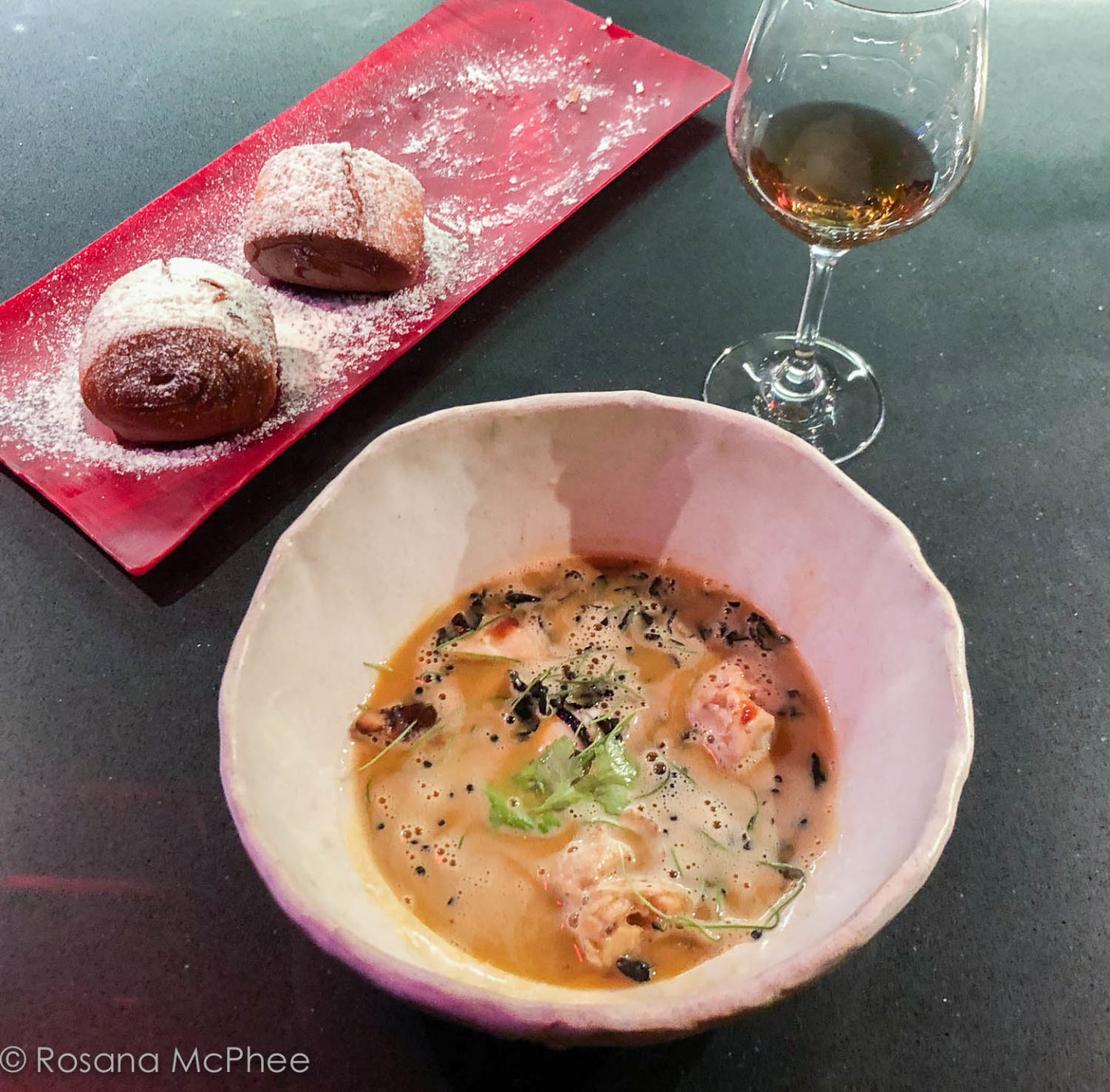 Ramen and Singapore Brioche XO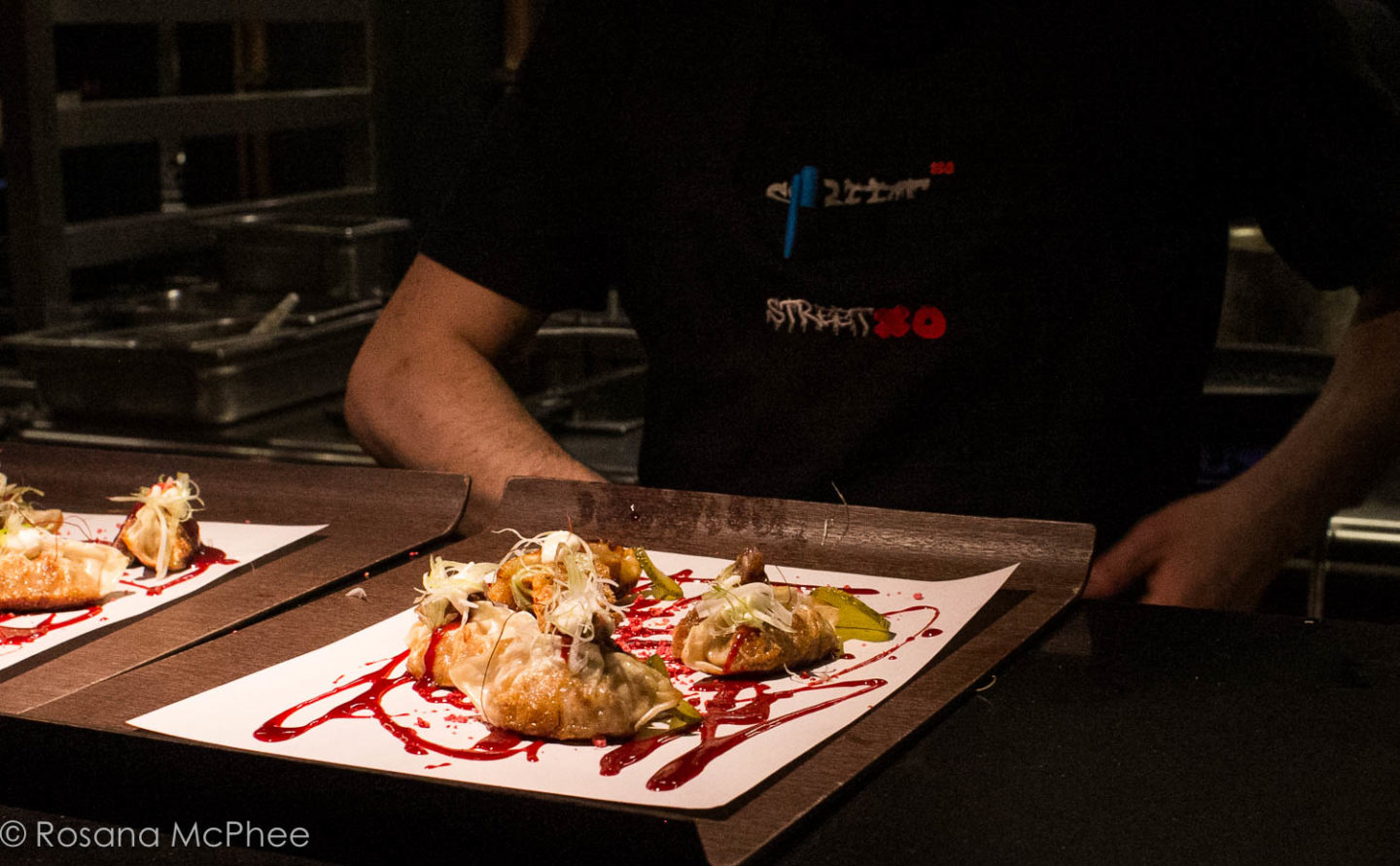 Pekinese dumplings at Street XO
Pekinese dumplings served with crispy pigs' ears and gherkin slices, comes on a sheet of greaseproof paper dribbled and dotted with strawberry hoi sin sauce.
Enoki Pad Thai XO…
Enoki mushroom with sweet chilli, peanuts, omelette skin and fine herb emulsion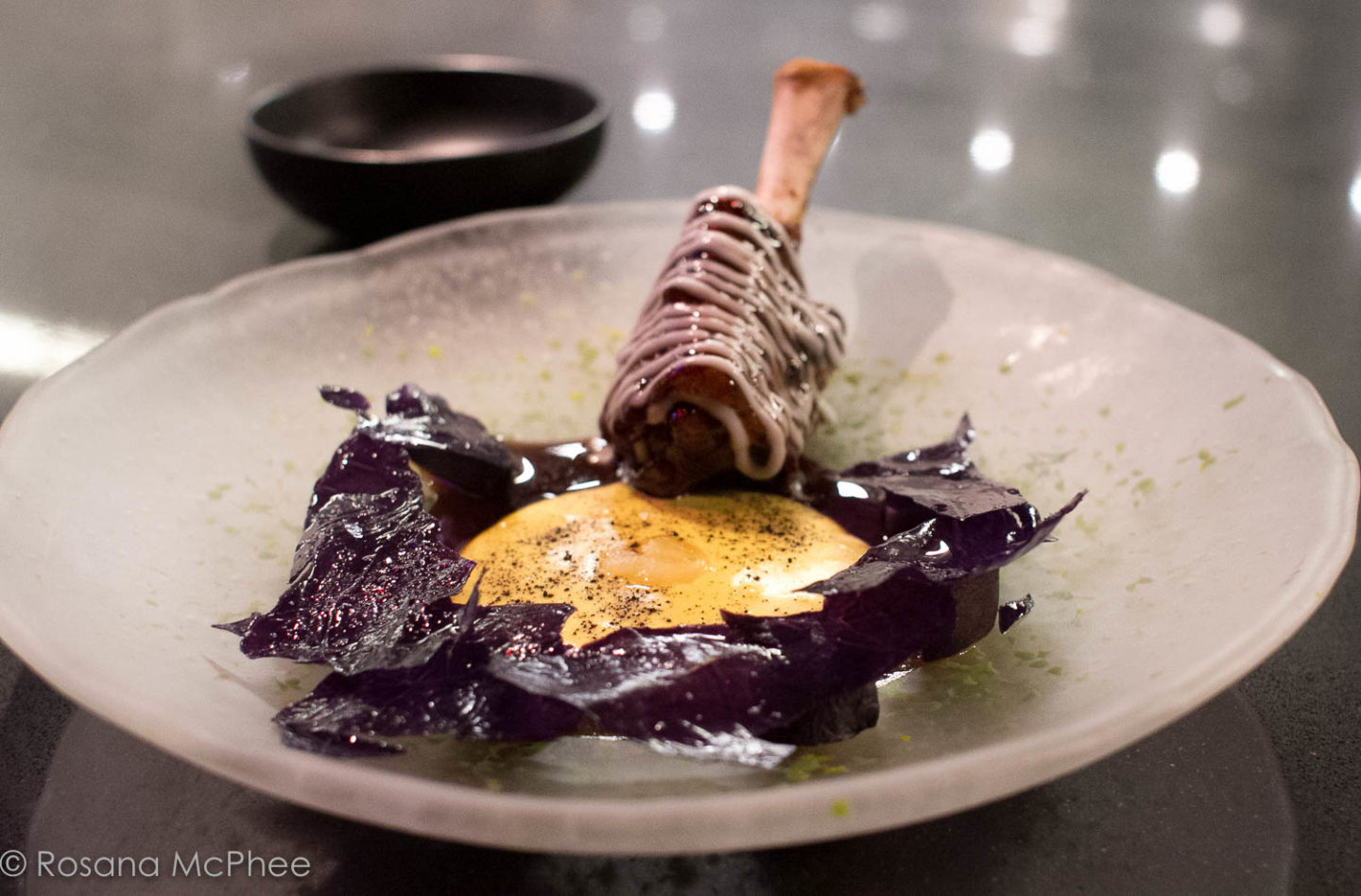 The Lamb who traveled: Paris-Lima-Canton at Street XO
Slow cooked milk-fed baby lamb shank, pomme purée à la Robuchon with Ají Amarillo and Chinese smoked tea
The dessert  was delicious and refreshing cheesecake ice cream – perfect finish paired with cocktails and Pedro Ximénez.
I am astonished that I haven't been to Street XO before. It's not a place for a quiet gathering and serious conversation. It's an upbeat venue for parties and celebrations! I visited the restaurant on a Wednesday evening and it was full of local workers and visitors from far afield. Great atmosphere.
Highly recommended.
15 Old Burlington St,
Mayfair, London W1S 2JR
t: +44 (0)20 3096 7555
reservations@streetxo.co.uk
Disclosure: I was a guest of Street XO, but I liked it so much I ordered more food at my expense. All opinions are my own.
The post Street XO London review appeared first on Hot and Chilli.